Mob: +27 083-296-7854
Whatsapp only : +27
83-296-7854

Email: info@hullmactradings.co.za
Hay Processing and Packaging
Lucerne Hay Bales Grade A and B-B+
Double Press 25kg
Double Press Lucerne Hay Bales 50kg Grade B+
Double Press 50kg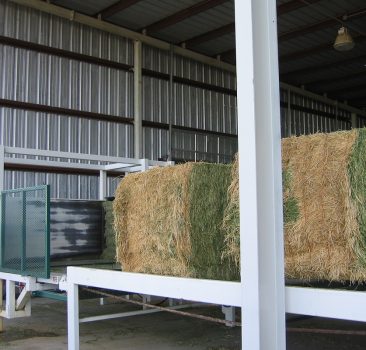 Big Square Bale Slicing and De-Stacking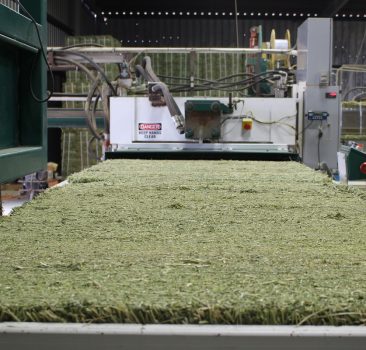 In-Feed, Weighing, and Flake Separation
Compress, Eject, Strap
Bales in Stores
Slice and Accumulate
Jumble Bales Press 100kg
Bundle Strapping
Jumble Bales
BALES PACK FULL LOAD
ALFALFA MEGA BALES (HAY):
These bales are compacted and weigh approximately 700 kilos per bale. They are very often also used dairy operations, and any cattle fattening needs.
Product Code (Bales): 1214.90.00.900T
Forage Packaging Options
Hulmac Trading is an agricultural commodity exporter offering a variety of forage and non-forage products customized with your packaging requirements.
Single Compressed
Bales loaded directly into containers
Non-compressed 3x4 big bales
Non-compressed 3-tie bales

Specifications:
Dry Matter 88%
Humidity 12.00 %
Crude protein 19-20% (often higher)
Crude fiber 27-34%
Ash 9.5 -10.5%
Potassium 1.7 %
Calcium Phosphorus 0.10 % 0.25 -0.30% ADF 30-35% NDF 45-55% RFV 124-103
Bale weight (kg) 450 kg / 900 kg
Bale dimensions (cm) 2.10x0.8x0.875 Volume (m3 ) 1.4

Presentation: 700 kilos per bale. A 40-foot container will load 26 tons, which is approximately 37 bales of Alfalfa per container.

Flakes better with more intact leaves resulting in less dust
Double Compressed
Four key sections work jointly to automatically package the compressed bales into blocks with straps, wrap-pack, or a combination for increased efficiency and ease of container loading
Accepts 3x4 or 4x4 big bales or standard 3-tie bales
Half-Cut achieved by cutting full bale in half. Convenient when lighter and smaller bales are required
Full Bale: Approximately 448 bales per 40' high-cube container
Half-Cut: Approximately 896 bales per 40' high-cube container
Full Bale
24"H x 20"W x 17"D
(55-60 KG) Half-Cut
12"H x 20"W x 17"D
(25-30 KG)
Sleeved
Achieves maximum allowable container capacity with benefits of improved storage, handling, ease of container loading, and adjustable fiber lengths of 6" to 12"
Accepts 3x4 or 4x4 big bales with multiple quality control locations
Sliced hay is pressed into a 430-460 kg bales
Big Bale 4-cut makes flaking and machine mixing easier
Sleeves include company logo for ease of differentiation
Approximately 56-60 bales per 40' high-cube container

Big Bale
30"H x 45"W x 45"D Mag Bale
Half-cuts
This is the smallest double-compressed bale we make. At around 30-kg, these bales are suitable for smaller dairies where mechanical assistance is limited.
Standard Export Bales(DC)
This double-compressed bale is double the size of a half-cut and weighs approximately 60-kg. Timothy in particular is often preferred in this configuration, although occasionally alfalfa is also finished out this way.
Long Bales
This 120-kg bale is ideal for mid-sized dairies utilizing TMR mixers and machinery. These bales are produced in exactly the same manner as standard and half-cut bales with no chopping or mixing.
480-Kg Bales

The 480-kg sleeve bale is designed for large-scale dairies and offer a number of advantages for large-scale end-users over smaller export bales. The larger unit size allows rapid unloading and stacking in customers' warehouses and the larger weights are appropriate for dairies and distributors who mix hays in TMR mixers.
Hay is compressed and never chopped or mixed. Since all hay comes from a single source, leaf-to-stem ratios are uniform throughout the bale and throughout the container. Units are extremely stable and stackable in the warehouse and, except for a few straps, there is nothing to discard.
HulMac has achieved the following quality certifications: